COVID-19 HEALTH AND SAFETY POLICIES
Click HERE for COVID-19 Health and Safety Policies!
FEATURED ITEMS AT THE MARKET
The Market will feature produce, herbs, pre-packaged foods, prepared foods and crafts.
ADDITIONAL WAYS TO PURCHASE FROM MARKET SEASON VENDORS
To help support all season vendors (including the vendors that are not eligible to participate for the time being due to COVID-19), customers can purchase from some of our vendors in other ways than at our market locations. CLICK HERE for additional ways to purchase from season vendors!
BAXTER ARENA VENDOR MAP & BOOTH SPACES
BAXTER ARENA VENDOR MAP
BAXTER ARENA VENDOR BOOTH SPACES (vendors are subject to change)
Hours

Every Sunday
June 7 — Mid-October, 2020
9:00 AM — 1:00 PM

The first hour of the market (9 a.m. to 10 a.m.) is intended for seniors, people with underlying health conditions, and expectant mothers. With that said, we recommend that seniors, those with underlying health conditions, and expectant mothers shop the Old Market location on Saturdays since it is less crowded and allows staff to organize a separate entrance line for seniors and other vulnerable populations during the first hour.
Banks/ATMs

A Security National Bank ATM is located just south of the Aksarben Village parking garage at the corner of 64th Avenue and Center Street in the bank's drive-thru.
Directions
Baxter Arena, across from Aksarben Village
Parking Lot 26
2425 S 67th Street
Click HERE for directions!
Click HERE for Parking Map!
Sponsors
Vendors of the Aksarben Village
5 Star Produce
Ba-Dra-Mi Farms
B&PJ Silver
Big Kahuna Fresh Squeezed Lemonade
Birdsley Road Blueberries
Creekside Organic Farm
Erick's Enchiladas
Grandview Farm
LB's Art Pottery
Lor's Produce
Mai's Garden
McFosters
Melia Valley Garden
Moua Garden
My Storyboards
Narce Homegrown Produce
Pacific Rim Noodles
Southern Cross Greenhouse
Terra Firma Fungi, LLC
Urban Farmer
Wichman Produce
Xiong's Garden
Yang Garden
Zoua Lo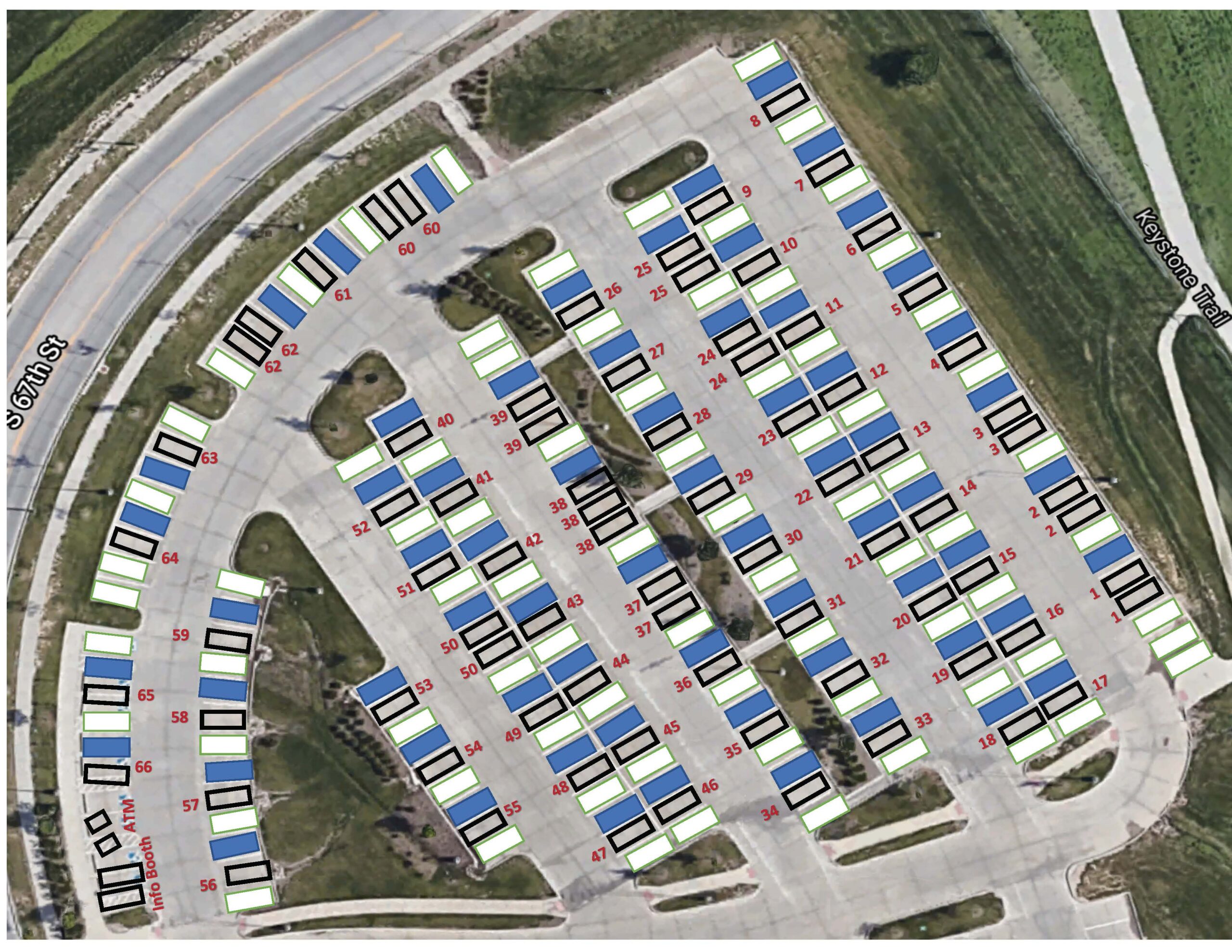 Click to view larger.
Please note: Vendors and map may change throughout the season.