Parking + Meter Information
Old Market:
Know where to park? Get to know parking. Downtown parking is now easier to find and use.
OFF-STREET
Selecting a parking space in a surface lot or parking garage is convenient and cost-effective.
+ City Garage: 10th & Jackson, upper level OPEN daily, $1 an hour (Fri-Sun)
+ Landmark Garage: 12th & Harney, OPEN daily, $2 for first hour, $1 after
+ Omaha Park 2: 14th & Howard, $2 flat rate on evenings & weekends
ON-STREET
Throughout downtown, metered parking spots provide quick access to the Omaha Farmers Market, businesses, dining and entertainment. Most on-street parking surrounding the Omaha Farmers Market is 3-hour parking.
Monday – Saturday from 9 a.m. to 9 p.m.
Sundays and Holidays are FREE!

Make parking easier and download the FREE Park Omaha App! You can use the app to pay for parking without leaving your vehicle, receive text messages and in-app reminders before your meter expires.
Download the Park Omaha mobile app for iOS or Android.
Aksarben Village:
Parking Options:
+ 64th Avenue Parking Garage: Just north of Center Street
+ Blue Cross Blue Shield Parking Garage: Frances Street
+ Zone 5 Parking Garage: Aksarben Drive & Frances Street
+Street & Surface Lot Parking
Towed Vehicles:
Old Market:
+If your vehicle is left in a stall on Jackson Street or 11th Street within the market it will be towed and impounded on Saturday morning during market season.
+If your vehicle is left in the parking lot on 11th and Jackson it will be towed to the east side of the lot.
Aksarben Village:
+If your vehicle is left in a stall on 67th Street (from Center to Frances Street) or on Mercy Street (from 67th to Aksarben Drive) it will be towed Sunday morning to a stall on Aksarben Drive or on the East side of Frances Street.
Directions
Old Market: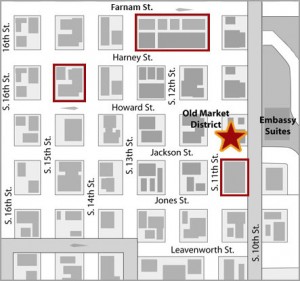 11th & Jackson Street
Get Directions
Aksarben Village: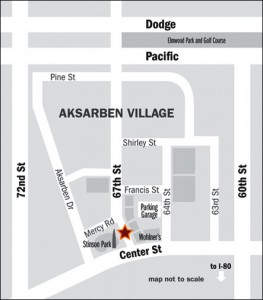 67th & Center
Get Directions
Charles Drew Health Center: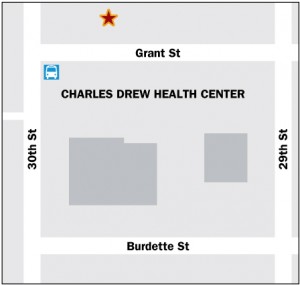 2915 Grant Street
Get Directions
Alternative Transportation
Bus: Most buses serve the downtown Omaha/Old Market area. For route information, visit the Metro website or call Metro at 402-341-0800 or use Google Maps and search for directions using the transit option. Don't forget that you can use the front racks on the bus to bring your bike. New to riding the bus? Here are some tips on how to ride. Fare information is available here.
Bike: Activate Omaha has created a very useful commuter cycling map of the best routes to get you to and from your destination safely. Bicycling to the Old Market is a fun ride!
Omaha B-Cycle is now available to rent bicycles. Check Askarben Village and other locations by visiting www.Omaha.BCycle.com.